Cor-Caroli Sambazi (Samba & Taariq)
4 – months
7 weeks old
Golden girl 1 week
We plan to puppies – September 2018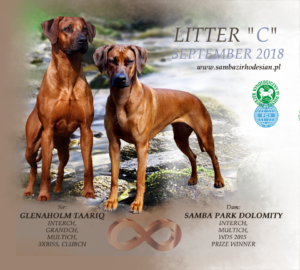 GLENAHOLM TAARIQ will be the father of future puppies.
INTER.CH.GRAND CH.MULTI CH.CLUB CH,MULTI BISS
This elegant dog was born in one of the oldest African kennels Glenaholm,In 2009 he was imported from Canada to Europe and currently lives in Slovakia.The dog became a stud dog registered in a Slovak club SKCHR(FCI).
Taariq-
full dentition, correct scissorbite
red wheaten colour, no white
dark eyes
68 cm, 41 kg
HD A/A, ED 0/0, LTV neg.
complete blood profile – normal
Thyroid – complete profile – in reference range (clear)
Degenerative Myelopathy (DM) – genotyp N/N, (non carrier)
Juvenile Myoclonic Epilepsy (JME) – Clear
Haemophilia B (factor IX) – genotyp N/N (clear), non carrier
Early Onset Adult Deafness (EOAD) – High confidence: Clear
D-Locus (Dilution) – genotyp D/D (non carrier)
Dominant homozygot RR (carrier of 2 genes for ridge)
heart – clinical and echo examination – normal
from puppy age fed Biologically Appropriate Raw Food (BARF)
Taariq has friendly, highly loyal, playful and zippy character. He is excellent family dog with deep love to family members, also children. He is reserved to unknown people as typical rhodesian ridgeback. He has excellent hunting and working skills. He is well obedient and learns everything new very fast.
Taariq wins three times during one week Best Male and Best Exhibit in Show (BISS) at three Rhodesian Ridgeback Specialty Shows in Czech Republic (entries 196 and 172 RRs) and Slovakia (entries 80 RRs) under two Australian RR specialists Mrs. Dawn Redman (Shelridge Kennel), Mrs. Susan Cameron Steve Codognotto (Ozrhode Kennel) and Slovak judge Mr. Vladimír Piskay in September 2011. These achievements rank among the unique and unrepeatable often. Taariq also wins Best Male, CACIB and Best of Breed at International Dog Show in Slovakia under German RR specialist Mr. Steffen Schock(Johokwe Kennel) in August 2011.
In Septmber 2012 Taariq wins again Best Male and Best Exhibit in Show (BISS) at Rhodesian Ridgeback Specialty Show in Slovakia under Slovenian RR specialist Snežka Kuralt (Bračun).
In July 2014 Taariq became Honour Class Winner at XX. Jubilee Rhodesian Ridgeback Specialty Show in Slovakia under Australian RR specialist and RR breeder Sarah Wheatley (Adbesare Kennel).
In September 2014 Taariq became two times Champion Class Winner (out of 17 champion males) at Rhodesian Ridgeback Specialty Shows at Orlík, Czech republic under two another very famous German RR specialists and RR breeders Monika Pehr (Thuraia Kennel) and Karin van Klaveren (Kisangani Kennel).